Anyone who truly listens to singer /songwriter Randy Phillips' lyrics recognizes her as a poet at heart.
Critically acclaimed producer and recording artist Peter Sprague has written of Randy's music "One of the most powerful qualities that music holds is its ability to reveal to us the subtle inner workings of the human soul. Through Randy Phillips' voice, music and lyrics we learn something about ourselves. She is a true artist."
Over the past several years Randy has shared the stage with many distinguished musicians including Peter Sprague, Fred Bennedetti, John Katchur, Kevin Hennessy, Duncan Moore, Peggy Watson, Tommy Aros, Barnaby Finch, Sean and Sara Watkins, Chris Thile, John Highkin, Monette Marino, and others. Her second album Full Moon's Daughter is a versatile mix of folk,jazz and bluegrass. It features the guitar and fiddle work of Sean and Sara Watkins from the Grammy-nominated, award winning band Nickel Creek, pianist Barnaby Finch (keyboardist for Lee Ritenour and former musical director for George Benson), distinctive arrangements by the notable jazz guitarist Peter Sprague and an unforgettable alto sax solo by international jazz legend Charles McPherson.
Randy Phillips was born in Santa Monica, California, the second of three children and grew up in West Los Angeles. A creative and expressive child, Randy began writing poetry and composing melodies in second grade which resulted in local Girl Scout awards and publication in several school papers. In high school, she studied drama, wrote songs and sang with a trio called "Stained Glass Rainbow" whose original music won representation by a Hollywood agent.
Unfortunately, the agent skipped town with all recordings, contracts and every other trace of his professional existence. Friday evenings were often spent listening to music at "The Troubadour", a small westside club where for $5.00, one could enjoy the up and coming talents of James Taylor, Carol King, Carley Simon, and Cat Stevens. Attending San Diego State University in 1971, her musical career took a slight detour when she became intrigued with sociology and religious studies. While working on a Sociology degree, she studied poetry with the acclaimed, award winning poet, Carolyn Forche.
Graduating with a degree in Sociology in 1976, Randy took employment working nights counseling runaway adolescents at a residential treatment program called "The Bridge." She found that playing guitar and singing songs of longing such as "Leaving on a Jet Plane" and "Someday Soon", as well as some of her own compositions facilitated a healing process for many of the runaways with whom she worked. Her journey in the counseling field led her into the early Hospice movement where, while earning her Masters degree in Social Work she participated in establishing San Diego Hospice, one of the first, largest and most well respected hospices in the country. While she was Director of Psychosocial Services there, Randy employed her musical talents with terminally ill patients, families and staff members. She was also asked to write the sound track to a film specifically designed to train hospice volunteers across the country. Randy appeared on the local television show "Sun Up San Diego" to sing "Hello", the theme song from that soundtrack.
 
Over the years, Randy has attracted a diverse and loyal audience. Charles McPherson describes Randy's music as "sensitive and heartfelt. a blend of folk and a certain country sound that has originality. very melodic and calming to the soul." The critically acclaimed singer/songwriter Peggy Watson describes Randy's lyrics as "poetic and thought provoking."
As well as performing at a wide variety of venues throughout San Diego, she has been heard on KPBS Radio's premier forum for the arts, "The Lounge". Her song, "Cross at the Curve in the Road" from her 2001 release has been featured on the popular National Public Radio show, Car Talk.

Randy's previous release "Wild Horses" features the fine dobro, fiddle and banjo signature of acclaimed bluegrass musician Dennis Caplinger. Peter Sprague, who co-wrote 8 of the 11 original songs featured on the album, wields his magic in moving arrangements and soaring guitar work.

Her newest CD "True Stories I Made Up" released in 2005, is a poetic collection of original, lyric oriented jazz infused folk that speaks directly to the heart. It journeys through themes that include the transience of life (Change of Heart) and the deepest of philisophical questions (Question & Answer) to the emotional landscape of relationship (True Story I Made Up) and bone chilling solitude (Too Far Down). A fine collaboration with multiple award winning guitarist and producer Peter Sprague, the album features master bass player Bob Magnusson on three Pat Metheny tunes interpreted lyrically by Randy Phillips.
About Peter Sprague's new release, Calling Me Home, featuring lyricist Randy Phillips
Calling Me Home is a collection of my original vocal songs performed by a few of my favorite vocalists. Even before I got into jazz I was listening to bands that were led by singers. Early influences were The Beatles, Bob Dylan, Crosby Stills and Nash and Jimi Hendrix. For me, the blend of a singer telling their story through words and then having this transition to some space for an improvised solo is a cool way to play music.
Sometimes songs come to me as just music and I'll fashion lyrics to them later. Other times I'll have a set of lyrics to start with and the music will show up in response to the words. I like working both ways and to hear the finished song sung for the first time is one of life's great moments.

I've collaborated with a number of different lyricists over the years but one of my favorites is Randy Phillips. She has a wonderful poetic sense and really understands where my music and ideas are heading. We've worked on a bunch of songs and I'm thrilled to include some of our best here.

The magic of a tune with lyrics really relies on the artist delivering the message. I'm fortunate to work with some gifted vocalists and I thank Leonard, Lisa, Kevyn, Allison and Kate, all who have brought their beautiful sound and emotion to these new songs of mine.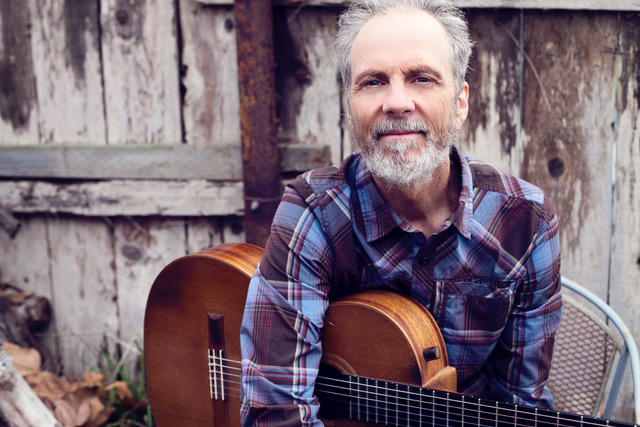 Sitting there still
Familiar grace
I will drink in my fill
Choir of birdsong is calling me
Sunlit and darkening
Twilight is beckoning
Calling me home

Thanks for listening,
Peter Sprague